Support CKS!
Your contribution is vital to our continued growth. By donating or becoming a member you are supporting connections between Cambodian scholars, students and artists with their international colleagues for the purpose of fostering understanding of Cambodia and Southeast Asia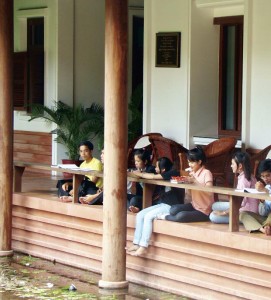 Ways in which you can help:
Support CKS's Library fund: acquisition of books, equipment and computers, and the ongoing training of our Cambodian librarians.
Support important CKS public outreach: free lectures, workshops and conferences, publications on contemporary and historical topics, and translation of essential educational texts into Khmer
Help CKS train junior faculty at the universities: to rebuild higher education after its deliberate destruction by the Khmer Rouge.
Annual fund Membership categories include:
Director's Circle ($35,000 and up)
Patrons ($20,000-$34,999)
Sponsors ($10,000-$19,999)
Supporting Members ($1,000-$9,999)
Members ($100-$999)